Attorney Patrick Shannon, founder of Hillsborough Families Against Cell Towers addressing his City Council regarding 16 proposed cell towers by Verizon/Crown Castle: "Do the right thing, protect your residents and avoid our City from becoming the place where democracy goes to die and cell towers metastasize."
Where Things Stand In Petaluma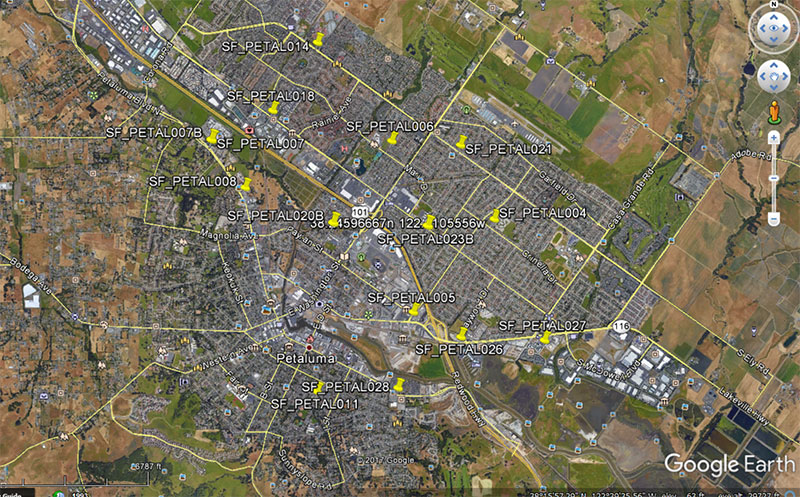 2/25/18 Post to Petaluma Nextdoor.com
I, too, am encouraged by word I received from the City that a letter was being finalized by the City Attorney that would be sent to the Wireless Carriers. I don't believe the letter is complete and I have not yet read it, but I would not drop our guard. We need to follow this very closely.

It seems that the Petaluma City Staff and Council members are listening to the experts we brought to a Thu Feb 1, 2018 meeting in City Hall. That is good. We are, however, dealing with Verizon and they already have a master license agreement with PG&E to go on PG&E's utility poles (look for the link here or at http://mystreetmychoice.com/petaluma.html)

I understand how Verizon Wireless operates, having testified against them and their strong interests in passing CA SB.649 for six months, a bill which would have severely limited local control over the installation of these heinous 4G/5G so-called "Small Cell" cell towers in the public rights of way in residential zones. Thank goodness Governor Jerry Brown listened to 350+ CA cities and and 50 of 58 CA counties who opposed this terrible bill. Remember, Verizon was firmly in favor of SB.649, which would have preempted nearly all local control over these 4G/5G so-called "Small Cell" cell towers installed in residential zones.

Verizon is smart, tenacious and dishonest to the core. They have built their business on lies and propaganda and know very well they are harming communities in order to maximize their profits. They have no insurance to cover claims from injuries/illnesses from RF Microwave radiation because Lloyd's of London, Swiss Re and the other major re-insurers have reviewed the research and have specifically excluded coverage for injuries/illnesses caused by RF Microwave radiation. Verizon does tell their shareholders about this uninsured liability, but not the Cities or their customers -- whom they are trying to bamboozle.

Verizon desperately wants to permanently affix their private antennas on a City's public property (city-owned light/utility poles and other "street furniture" so they CAN TRANSFER LIABILITY to the cities and escape the consequences of peddling such a hazardous product/service. So what if this bankrupts the cities. They don't care, as long as they escape the consequences.

Verizon is also very litigious. There are Verizon/Crown Castle law suits proceeding against cities right now in Piedmont, CA and Hillsborough, CA. I can only imagine the Santa Rosa disaster will also be heading to court, at some point.

So I am sure Verizon will come back to Petaluma to try to push their way in. We need to encourage the City Council and City staff to update its Municipal code to effectively protect Petaluma residents' inalienable rights to privacy and safety in their homes and community.

I would still encourage all to speak in public comment on Mon Mar 5 and Mon Mar 19 at 6:45 pm to talk about these Verizon tactics and to encourage the City to prepare for the onslaught of applications for 4G/5G so-called "Small Cell" cell towers which will be coming -- by updating their Municipal Wireless code.
We have received confirmation from the City of Petaluma that Verizon has approached the City of Petaluma to install the first fifteen (15) 4G/5G so-called "Small Cell" cellphone towers in Petaluma.
Verizon's Stated Interests
Verizon wants 15 additional cell phone towers in Petaluma and contractors for AT&T, T-Mobile and Sprint won't be far behind. Most of these cell towers will be in residential neighborhoods — just 15 to 50 feet from homes. These cell towers transmit pulsed, data-modulated, RadioFrequency Microwave radiation 5-6 miles or farther. On 2/6/18, Petaluma residents entered substantial evidence into the public record proving NO SIGNIFICANT GAP in coverage where Verizon wants to install these cell towers, videos of which you can see here. Cities cannot have their local authority pre-empted if the Wireless carriers do not prove that there is a significant gap in coverage.
A first look at the currently available information from Verizon (no formal application, yet) shows that the 4G/5G so-called "Small Cell" cellphone towers will be installed on Utility poles (jointly owned/maintained by PG&E and AT&T) at the following locations (our best estimate).
| Codes | Streets | Zone |
| --- | --- | --- |
| SF_PETAL004 | Crinella/Caulfield | Residential |
| SF_PETAL005 | Payran/Caulfield | Commercial |
| SF_PETAL006 | E. Madison/Maria | Residential |
| SF_PETAL007 | Entrance to Outlet Malls | Commercial |
| SF_PETAL007B | Entrance to Outlet Malls | Commercial |
| SF_PETAL008 | Cinnabar Ave/Petaluma Blvd No. | Residential |
| SF_PETAL011 | 7th St./G St. | Residential |
| SF_PETAL014 | Campus Circle/Sonoma Mt. Pkwy | Residential |
| SF_PETAL018 | Candelwood Dr/N McDowell | Residential |
| SF_PETAL020B | Madison/Wilmington | Residential |
| SF_PETAL021 | Gilrix/Ely | Residential |
| SF_PETAL023B | Lindberg Ln/So. McDowell | Residential |
| SF_PETAL026 | Baywood/Lakeville | Commercial |
| SF_PETAL027 | Technology Lane/Telecom Lane | Residential |
| SF_PETAL028 | McNear Circle/Petaluma Blvd. So. | Residential |
CPUC Rulemaking 14-05-001: Decision Regarding The Applicability Of The Commission'S Right -Of-Way Rules To Commercial Mobile Radio Service Carriers
And then there is this: PG&E Trying to be come a Wireless Carrier itself. 17-04-010 (PHC) - Application of Pacific Gas and Electric Company (U39E) for a certificate of public convenience and necessity to provide:
(i) full facilities-based and resold competitive local exchange service throughout the service territories of AT&T California, Frontier California Inc., Consolidated Communications of California Company, and Citizens Telecommunications Company of California; and
(ii) full facilities-based and resold non-dominant interexchange services on a statewide basis, Commission Courtroom, San Francisco